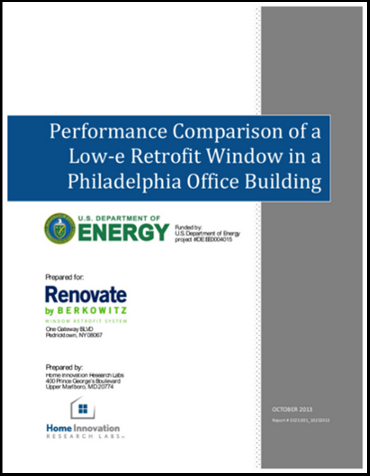 The U.S. Department of Energy (D.O.E.) funded a year-long study of the RENOVATE System after the system was installed in a twelve story commercial office building in Philadelphia, PA.
The study focused on both the heating and cooling savings post installation of the RENOVATE System.
In his summary of the report, lead researcher Thomas D. Culp. Ph.D. noted "For heating energy use, we observed a 39% reduction in the east-facing office, and a 60% reduction in the north-facing office. For cooling energy use, we observed a 36% reduction in the east-facing office…"
Mr. Culp also noted "…we saw huge improvements in comfort… the retrofit window temperatures were commonly 20 degrees warmer on winter days, and 10-20 degrees cooler on summer days. The day-night temperature swings were reduced from 50 degrees to 20 degrees for east-facing windows, and from 20 degrees to 4 degrees for north-facing windows…this will improve comfort, and give more usable space next to windows."
You may download the full report by clicking on the image to the right.