January 27, 2014 Revolutionary Window Retrofit System Saves Energy & Meets Historic Designation
Renovate by Berkowitz Selected to Update Historic Buffalo High-Rise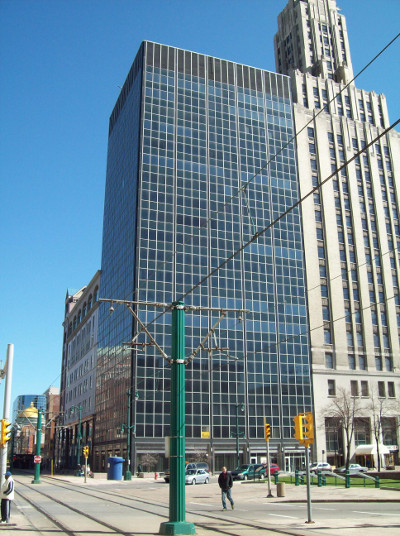 The RENOVATE by Berkowitz™ (Renovate) window retrofit system is being used to update the 20-story Tishman Building at 10 Lafayette Square in Buffalo, N.Y. The retrofit is part of a $41-million renovation that is transforming the nearly vacant office building in to a mixed-use complex.
The 55-year-old building was named to the National Register for Historic Places in 2012. According to project architect Jonathan Morris of Carmina Wood Morris, P.C., a Buffalo-based firm, the historic designation posed a significant hurdle.
"We wanted to replace the original glazing with a new, insulated curtain wall that was fabricated to match the profile of the original," Morris said. "However, because the building was an historic restoration, we were required to maintain the existing façade and original glass. At the same time, we wanted to update the building and improve its energy and thermal efficiency, while reducing street noise from the light rail line out front. The Renovate system was exactly what we were looking for to meet all of these requirements and goals, and earn tax credits."
Each of the building's 760 single-pane windows is being retrofitted with the Renovate Platinum Plus II system, adding two lites of high-performance, low-e glass, to the interior surface of the existing windows.
Once complete, the 140,000-square-foot building will feature a 124-room hotel, 18 market-rate apartments, a restaurant, and corporate offices for The Hamister Group, which owns the building. The project is expected to be complete by October 2014.
For more information on how the Renovate system can help improve aging commercial buildings, visit www.RbBwindow.com.